Gonzalez Tex Mex Restaurant has been serving the community of Dallas, Texas since 1973. We enjoy sharing our Tex Mex traditions by cooking for you the most delicious Tex Mex food in town.

Hours of Operation:
Tuesday - Friday 11am-9pm
Saturday - Sunday 9am-9pm
Monday - Closed
#10 Gonzalez Tex Mex Restaurant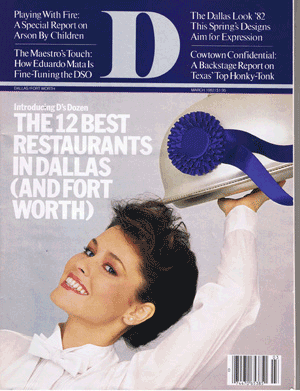 Don't let this little family-owned restaurant's to-go window and computerized cash register fool you. This is currently the best Tex Mex in town, beating out a host of competitors. This is the only cabrito we've ever been happy with (Mariano's Cabrito Cafe has a dismal version), and the mainline Tex Mex dishes are consistently good. Given a choice of this place and Raphael's, for instance, we'd take Gonzalez. Reason: Both have Tex Mex but, Gonzalez is still trying to build its reputation rather than resting on it; consequently, you get quick service and good prices. We recommend the nachos, tacos al carbon and the chile rellenos. And, of course, the frijoles are excellent. One of the beauties of this place is that it is open for breakfast (7 a.m), and a drive through egg and bacon burrito or chorizo and egg burrito makes and excellent alternative to the infamous Egg McMufin. Expect a Mexican style atmosphere when dining in Gonzalez Restaurant!
Gonzalez Restaurant
A festive as a piñata, strung with chile-shaped lights, tin beer signs, and real piñatas and nooks cleverly set off by walls made to look weathered, and then painted primary colors. The best breakfast burritos in town: thick, handmade flour tortillas as fragrant as naan bread, cupping ingredients like beans, cheese, potatoes, eggs and chorizo. Toss in some pico de gallo and you have a great way to start your day!
GuideLive.com article
Gonzalez Restaurant "The Best Tortillas In Texas"

The Best Tortillas In Texas!
367 W. Jefferson, 214-946-5333; and 8121 Bruton Road, 214-381-9107. No wonder there's a line for a lunch table at one-thirty at the bustling, snug Oak Cliff location on Jefferson: The flour tortillas here are worth the wait. Thick but fluffy, these comforting pillows of freshness smell like homemade biscuits (rating: 4.5).
Gonzalez Restaurant "The 2014 Best Tortillas In Texas"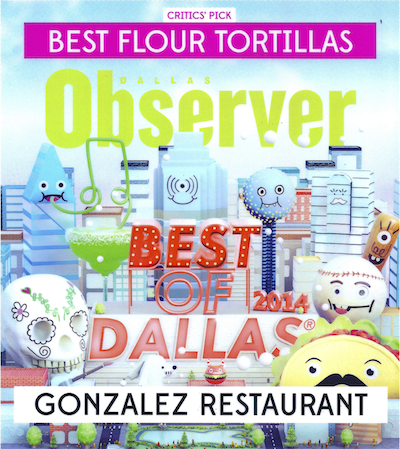 Best Flour Tortillas Dallas 2014!
Gonzalez's flour tortillas are not a lot of things. They aren't subtle, they aren't light in any way and they most definitely are not part of any diet you could possibly hope to lose weight on. What they are is amazing. As thick as a pancake, they render accoutrements like butter a mere afterthought. In fact, just so you can keep your focus on the rest of the Oak Cliff and Pleasant Grove institutions' outstanding Tex-Mex, you might be best served saving the tortillas for dessert.
Dallas Observer article